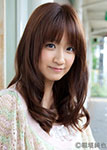 Aso Natsuko (麻生夏子), also known as Natchan (なっちゃん), is a Japanese idol, actress and TV presenter.
Aso Natsuko began playing as an actress in various dramas. She started her singing career in 2009. She performed the theme songs for several anime.
Since 2010, Aso Natsuko hosts the TV show Japan in Motion broadcast in France on Nolife and Japan on TSS (Television Shin-Hiroshima System).
She came twice in France at Japan Expo in 2010 and 2013.
Profile
Aso Natsuko (麻生夏子)
Nickname : Natchan (なっちゃん)
Birthdate : 06/08/1990
Blood type : AB
Years active : 2008 – present
Label : Lantis
Agency : Stardust
Discography
Singles
27/05/2009 : Brand New World
23/07/2009 : Programming for Non-Fiction
27/01/2010 : Perfect-Area Complete!
12/05/2010 : Everyday Sunshine Line!
10/11/2010 : More-more Lovers!!
09/02/2011 : Diamond Star ☆ (ダイヤモンドスター☆)
09/03/2011 : Renai Koujou Committee (恋愛向上 Committee)
20/07/2011 : Eureka Baby (エウレカベイビー)
08/02/2012 : Lovely Girls Anthem
25/07/2012 : Fighting Growing Diary
24/10/2012 : Parade!
24/07/2013 : Never Ending Voyage
27/11/2013 : MoonRise Romance
Other Singles
24/08/2011 : Nyanpire Taisou (にゃんぱいあ体操) (Aso Nyatsuko & Nyadain)
Albums
04/08/2010 : Movement of Magic
26/10/2011 : Precious Tone
Links
News