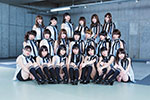 Bakusute Sotokanda Icchome (バクステ外神田一丁目) is a Japanese idol group formed in May 2012.
It consists of more than 100 members.
The girls also work as maids at Akihabara Backstage Pass cafe, Tokyo.
The customers and the fans are called the "producers". They can vote for their favorite members. Weekly and monthly rankings are published and show the most popular ones who will appear on singles, albums, live performances and various events.
Biography / History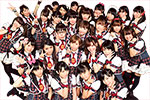 Akihabara Backstage Pass maid cafe opened in December 2011. It was founded by Shikura Chiyomaru and Hello! Project producer Tsunku♂.
80 girls passed the audition in May 2012. They were selected among more than 1000 applicants.
The idol group opened its Nico Nico Douga official channel in July 2012.
Bakusute Sotokanda Icchome released their 1st single Produce (プロデュース) in August 2012.
The idol unit made its major debut in May 2013 with the single Baito Fighter (バイトファイター) released under the label Warner Music Japan.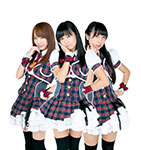 Bakusute Sotokanda Icchome participated in Napoli Comicon and Katagames festivals in Italy in May 2014. Only 3 members performed at these events : Hario Arisa, Horiuchi Kaori and Moroboshi Azuna.
The single Seishun Chronicle / Harinezumi to Jelly Bee (青春クロニクル / ハリネズミとジェリービー) has been released on iTunes in more than 110 countries in August 2014.
The girls host the show Asia Insolite on the french TV channel J-One since September 2014.
Moeno Mizuki reached the 2nd rank at a competitive eating tournament on the TV show Ganso! Oogui Ou Ketteinsen ~Shinseidai Saikyou Sen~ (元祖!大食い王決定戦~新世代最強戦~) in September 2014. Her nickname is "gluttony idol".
Since November 2014, Fujii Runa hosts the segment Bikini and Video Games on the TV show Gametine broadcast in Italy.
Asakura Yuri, Natsukawa Shizuka and Hamaguchi Ranko played in the musical Video Shop Dreaming ~New York no Majo~ (ビデオショップドリーミング~ニューヨークの魔女~) in November 2014.
Profile
Bakusute Sotokanda Icchome (バクステ外神田一丁目)
Years active : 2012 – present
Label : Warner Music Japan
Agency : Backstage Pass
Members
Main Members
Aikawa Ayano (愛川あやの)
Aoshima Karen (蒼嶋夏恋)
Asakura Yuri (朝倉ゆり)
Asato Minami (安里南)
AD Nagisa (ADなぎさ)
Kuraki Reina (倉木れいな)
Taiga Hana (大河華)
Hario Arisa (針尾ありさ)
Hirosawa Mai (広沢麻衣)
Moeno Azuki (もえのあずき)
Moroboshi Azuna (諸星あずな)
Horiuchi Kaori (堀内華央理)
Sato Shiori (佐藤栞)
Yodama Rina (依田茉莉奈)
Ichikawa Runa (市川るな)
Ishikawa Fujika (石川不二夏)
Fujii Runa (藤井瑠菜)
Kameido Eri (亀戸えり)
Takamiya Mei (高宮メイ)
Natsukawa Shizuka (夏川澄華)
Hamaguchi Ranko (浜口藍子)
Discography
Singles
01/08/2012 : Produce (プロデュース)
30/01/2013 : Yoropiku Pikuyoro! (ヨロピク ピクヨロ!)
08/05/2013 : Baito Fighter (バイトファイター)
14/08/2013 : Bishoujo Mokushiroku (美少女黙示録)
20/11/2013 : Oh my Destiny
27/08/2014 : Seishun Chronicle / Harinezumi to Jelly Bee (青春クロニクル / ハリネズミとジェリービー)
Albums
29/01/2014 : 1 The Produce (①ザ・プロデュース)
Links
News