BANZAI JAPAN is a Japanese idol group formed in 2014.
It currently consists of 14 members.
The girls aim to introduce the culture and the characteristic traits from the 47 prefectures of Japan to the world.
The live performances are based on "Wa" theme (meaning harmony and also Japanese-style). Their costumes are arrangements of kimonos. Folding fans are also used during the performances.
Biography / History
BANZAI JAPAN was created in May 2014.
The 1st generation members were Komachi Yuki, Hanasaka Sayo, Takahashi Nagi, Yasuhara Mei, Minamo Mizu, Shinkai Yuna.
The idol group held its 1st live performance in December 2014.
A photography event took place for the first time in March 2015.
The official website was opened in April 2015.
Their 1st single Banzai Japan (バンザイじゃぱん) was released in August 2015.
The 2nd generation audition was held in September 2015.
The unit ASHIGARU JAPAN, consisting of BANZAI JAPAN trainees, was formed in September 2015.
The girls host an variety show broadcast on Showroom on the internet since 2016.
The 3rd generation members were recruited in March 2016.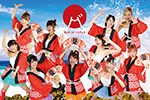 The 4th generation audition took place between June and July 2016.
BANZAI JAPAN's 2nd single Yamato Nadeshiko no Hi ga Noboru (大和撫子の日が昇る) went on sale in September 2016.
Their 3rd single Kiyoku Tadashiku Utsukushiku (大和撫子の日が昇る), on sale in August 2017, was the ending theme song for the show Kono Yubi Tomare (この指と〜まれ) airing on Fuji TV.
They released their 1st album Ichi Fuji Ni Taka San Banzai! (一富士二鷹三ばんざい!) in September 2017.
The idol group hosts a show on mysta since February 2018.
BANZAI JAPAN is going to participate in Japan Expo 2018 in Paris Nord Villepinte, France, in July. It is their prize for winning the Tokyo Candoll contest in April.
Profile
BANZAI JAPAN
Years active : 2014 – present
Label : –
Agency : Cospanic Entertainment
Members
Araragi Mau (蘭まう)
Arukawa Ayumi (春川愛美)
Shimada Rena (島田玲奈)
Asahi Juria (朝日珠莉愛)
Nabana Maria (菜花まりあ)
Nakano Himawari (中野向日葵)
Sato Itsuki (佐藤樹姫)
Minato Rima (皆戸理芳)
Sasagawa Sasa (笹川ささ)
Yasuhara Mei (安原めい)
Nakayama Koma (仲山コマ)
Fujisaki Fumi (藤崎ふみ)
Fujisaki Shiori (藤崎しおり)
Shida Rin (志田りん)
Former Members
Takahashi Nagi (髙橋なぎ)
Sumiyoshi Tamaki (住吉珠貴)
Tomonaga Kyoko (友永響子)
Izumi Aya (和泉彩)
Yoshioka Asami (吉岡亜沙美)
Komachi Yuki (小町ゆき)
Shinkai Yuna (新海由奈)
Minami Naru (実波なる)
Minamo Mizu (水萌みず)
Kusunoki Hikaru (楠ひかる)
Ikeda Nana (池田夏奈)
Hanasaka Sayo (花坂小夜)
Shirai Yu (白井ゆう)
Discography
Singles
14/08/2015 : Banzai Japan (バンザイじゃぱん)
04/09/2016 : Yamato Nadeshiko no Hi ga Noboru (大和撫子の日が昇る)
02/08/2017 : Kiyoku Tadashiku Utsukushiku (大和撫子の日が昇る)
Albums
25/09/2017 : Ichi Fuji Ni Taka San Banzai! (一富士二鷹三ばんざい!)
Links
News