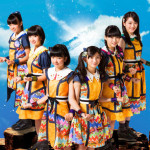 Batten Show Jo Tai (ばってん少女隊) is a Japanese idol group formed in 2015.
It currently consists of 6 members. Each one has been assigned a color.
Batten Show Jo Tai is managed by Stardust Promotion and is part of its Section 3 (3B Junior).
The idol unit is based in Fukuoka on the island of Kyushu.
It is a sister group of Momoiro Clover Z (ももいろクローバーZ), Shiritsu Ebisu Chuugaku (私立恵比寿中学), Team Syachihoko (チームしゃちほこ) and Tacoyaki Rainbow (たこやきレインボー).
Biography / History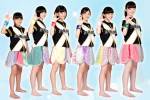 Batten Show Jo Tai started their activities in June 2015.
The members were previously part of F-Girls.
They performed for the first time on stage during the opening act of Momoiro Clover Z concert Onna Matsuri (女祭り) in November 2014 in Fukuoka.
Batten Showjo Tai are introduced as "Stardust Promotion's group of outstanding talent that come once every 100 years" (スターダストプロモーション100年に1組の逸材).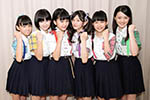 They held their first solo event in June 2015 at the Daizaifu Yuuenchi. 600 people attended the live performance.
Their 1st single Batten Shoujo (ばってん少女。) was released in September 2015.
In March 2016, they performed a cover Iza Yuke Wakataka Gundan (いざゆけ若鷹軍団), the official song of Fukuoka SoftBank Hawks baseball team.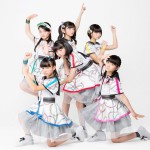 Batten Show Jo Tai made their major debut with the single Osshoi! (おっしょい!) in April 2016 under Victor Entertainment's label Colourful Records.
In April 2016, the girls were appointed tourism ambassadors of the city of Munakata in Fukuoka prefecture.
In July 2016, the idol group held a live performance as guest during the Avispa Fukuoka vs Urawa Red Diamonds football game at Level 5 Stadium in Fukuoka.
Batten Show Jo Tai's single Yoka Yoka Dance (よかよかダンス), on sale in September 2016, is the ending theme song for Dragon Ball Super (ドラゴンボール超). The members were wearing orange costumes inspired by the famous anime and manga series in the music video and on the visuals.
In September 2016, the girls appeared in a TV commercial for Ariake Farm's tomatoes and shiitake mushroom.
The goal of the idol unit is to expand its activities from Kyushu to nationwide.
Profile
Batten Show Jo Tai (ばってん少女隊)
Years active : 2015 – present
Label : Colourful Records
Agency : Stardust Promotion
Members
Kiyama Ai (希山愛) – Green
Ueda Riko (上田理子) – Red
Haruno Kiina (春野きいな) – Yellow
Seta Sakura (瀬田さくら) – Purple
Nishigaki Arisa (西垣有彩) – Pink
Hoshino Sora (星野蒼良) – Blue
Discography
Singles
30/09/2015 : Batten Shoujo (ばってん少女。)
20/04/2016 ; Osshoi! (おっしょい!)
14/09/2016 : Yoka Yoka Dance (よかよかダンス)
Albums
Links
News