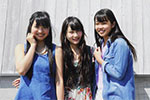 Candy Kiss is a Japanese idol group formed in 2012.
It currently consists of 5 members. Each one has been assigned a color.
Biography / History
The girls perform cute and pop dance tunes.
The idol unit is based in Tokyo.
The members attended together Clover dance school.
Candy Kiss was formed in February 2012, but the girls really debuted in August 2012. On the same month, the idol group released its 1st single Koi Suru Candy Kiss (恋するCandy Kiss) and held its first live performance during a dance festival.
The members are in charge of a show on CS / CATV.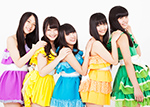 Yamashita Honoka withdrew from Candy Kiss in March 2014 in order to focus on her studies and dance.
Sakurai Maya and Shimoda Kaede announced their graduation in April 2015.
Candy Kiss 1st album Parfait is going to be released in July 2015.
Profile
Candy Kiss
Years active : 2012 – present
Label : Red Bunny Records
Agency : Holy Island
Members
Yoshizawa Ruri (吉澤瑠璃) – Orange
Oguchi Ryoka (小口涼花) – Yellow
Fukushima Kotoko (福島琴子) – Green
Former Members
Yamashita Honoka (山下睦夏) – Pink
Sakurai Maya (桜井まや) – Blue
Shimoda Kaede (霜田楓) – Purple
Discography
Singles
15/08/2012 : Koi Suru Candy Kiss (恋するCandy Kiss)
15/08/2013 : Tinker Bell ga Yattekita (Tinker Bellがやって来た)
19/03/2014 : Beautiful Girl
23/07/2014 : Love Romancer
Albums
Links
News