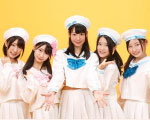 Choice? (ちょいす) is a Japanese idol group formed in February 2009 by Finolia Factory. It currently consists of 4 members.
The 5 original members were Uehara Mao, Minami Ayano, Yamaguchi Eri, Takaoka Miku, and Anzai Kana.
Choice? participated in various sub-units alongside with Rizumu and Survive-Zero : Azuki, Okashi Zukuri (お菓子づくり), Finolia Girls, FG Gakuen Ruikyuu-bu (FG学園塁球部), Rizumu with Brown Hairs.
Watanabe Kurumi, Hoshino Mizuha, Tanaka Yuna, Yanagida Kurumi, Uehara Mao, and Uchida Hitomi released solo singles.
Choice? held their 1st one-man live in April 2011.
Profile
Choice? (ちょいす)
Years active : 2009 – present
Label : –
Agency : Finolia Factory
Members
Uehara Mao (上原真央)
Hoshino Mizuha (星野瑞映)
Uchida Hitomi (内田ひとみ)
Yanagida Kurumi (柳田久瑠実)
Formers Members
Minami Ayano (南彩乃)
Takaoka Miku (高岡未來)
Yamaguchi Eri (山口えり)
Anzai Kana (安西かな)
Tanaka Yuna (田中佑奈)
Watanabe Kurumi (渡辺くるみ)
Discography
Singles
28/03/2009 : Haru no Chime (春のチャイム)
19/04/2009 : Dokki Doki Days
30/05/2009 : Jump ~Otome no Ketsui~ (Jump~乙女の決意~)
11/07/2009 : Tomadou Koigokoro (とまどう恋心)
26/06/2010 : Koi no Ko no Ji ha Heart no Mail (恋のコの字はハートのメール)
31/07/2010 : Kirameki☆Summer (きらめき☆サマー)
31/10/2010 : Kanashiki Unmei (悲しき運命)
25/12/2010 : Last Word
15/01/2011 : Kimi no Koto, Suki Datta (君の事、好きだった)
04/05/2011 : Jewel
06/08/2011 : Chouzetsu! Color Senshi! (超絶!カラー戦士!)
09/10/2011 : Anata ga Tsuita Uso (あなたがついた嘘)
08/04/2012 : Shounen ga Kanaderu Requiem (少年が奏でるレクイエム)
24/06/2012 : Kyuuaigata Muteki Sengen ~Choice? ga Maid Dattara~ (求愛型無敵宣言 ~choice?がメイドだったら~)
29/07/2012 : Natsuiro Prism (夏色プリズム)
15/12/2012 : Aoi Tori kara no Tegami ~Merry Christmas From Blue Bird~ (青い鳥からの手紙~Merry Christmas From Blue Bird~)
14/01/2013 : Otomeza no Renai Un (おとめ座の恋愛運)
12/05/2013 : Koi Suru Kajitsu (恋する果実)
06/07/2013 : Loveless
Albums
21/12/2011 : First Step Choice
Links
News