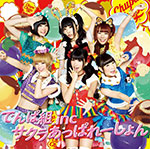 Dempagumi.inc's new single Sakura Apparition (サクラあっぱれーしょん) will be released on March 12.
The coupling song Fancy Hoppe U Fu Fu (ファンシーほっぺ♡ウ・フ・フ) and the CD cover artwork were made in collaboration between Dempagumi.inc and popular lollipop candy brand Chupa Chups (チュッパチャプス).
The MV has been released.
9 versions are available, including 6 special ones with solo songs by each member of Dempagumi.inc.
The lyrics and the music of the various songs were written by artists such as Tamaya2060% (Wieners), Kaji Hideki, Naoto (Orange Range), PandaBoy, Nobe, Ronzi (Brahman)…
Furthermore, Dempagumi.inc 2014 Nationwide Tour (でんぱ組.inc 2014 全国ツアー) will be held from February 15 to March 22.
Tracklist
Type A

CD

Sakura Apparition (サクラあっぱれーしょん)
Fancy Hoppe U Fu Fu (ファンシーほっぺ♡ウ・フ・フ)
Sakura Apparition (サクラあっぱれーしょん) (Instrumental)
Fancy Hoppe U Fu Fu (ファンシーほっぺ♡ウ・フ・フ) (Instrumental)

DVD

Type B

CD

Sakura Apparition (サクラあっぱれーしょん)
Fancy Hoppe U Fu Fu (ファンシーほっぺ□ウ・フ・フ)
Sakura Apparition (サクラあっぱれーしょん) (Instrumental)
Fancy Hoppe U Fu Fu (ファンシーほっぺ

♡

ウ・フ・フ) (Instrumental)

Aizawa Risa Ver.

Sakura Apparition (サクラあっぱれーしょん)
Aizawa Risa Solo Song (相沢梨紗ソロ曲)
Sakura Apparition (サクラあっぱれーしょん) (Instrumental)
Aizawa Risa Solo Song (相沢梨紗ソロ曲) (Instrumental)

Naruse Eimi Ver.

Sakura Apparition (サクラあっぱれーしょん)
Tokimeki Succharaka Texas (トキメキ☆すちゃらかテキサス)
Sakura Apparition (サクラあっぱれーしょん) (Instrumental)
Tokimeki Succharaka Texas (トキメキ☆すちゃらかテキサス) (Instrumental)

Fujisaki Ayane Ver.

Sakura Apparition (サクラあっぱれーしょん)
P and A
Sakura Apparition (サクラあっぱれーしょん) (Instrumental)
P and A (Instrumental)

Furukawa Mirin Ver.

Sakura Apparition (サクラあっぱれーしょん)
Sorry, Lonely (ソーリー、ロンリー。)
Sakura Apparition (サクラあっぱれーしょん) (Instrumental)
Sorry, Lonely (ソーリー、ロンリー。) (Instrumental)

Mogami Moga Ver.

Sakura Apparition (サクラあっぱれーしょん)
Mogami Moga Solo Song (最上もがソロ曲)
Sakura Apparition (サクラあっぱれーしょん) (Instrumental)
Mogami Moga Solo Song (最上もがソロ曲) (Instrumental)

Yumemi Nemu Ver.

Sakura Apparition (サクラあっぱれーしょん)
Anone… Jitsuwa Watashi, Yumemi Nemu Nanda… (あのね…実はわたし、夢眠ねむなんだ…♡)
Sakura Apparition (サクラあっぱれーしょん) (Instrumental)
Anone… Jitsuwa Watashi, Yumemi Nemu Nanda… (あのね…実はわたし、夢眠ねむなんだ…♡) (Instrumental)

Regular

Sakura Apparition (サクラあっぱれーしょん)
Fancy Hoppe U Fu Fu (ファンシーほっぺ

♡

ウ・フ・フ)
Sakura Apparition (サクラあっぱれーしょん) (Instrumental)
Fancy Hoppe U Fu Fu (ファンシーほっぺ

♡

ウ・フ・フ) (Instrumental)
Music Video (PV)