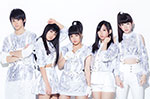 Dream5 (ドリームファイブ) is a Japanese dance and vocal unit formed in 2009.
Dream5 consists of 5 members : 4 girls and 1 boy. There are 2 vocalists and 3 dancers.
The leader is Shigemoto Kotori. She is also a fashion model.
The unit's name is sometimes shortened in Dori5 (ドリ5)  pronounced "Dorigo".
The members were selected after an audition held by the TV show Tenshi Terebikun Max (天才てれびくんMax) on NHK. They have "an image giving hope and dream when they are together" according to their producer.
Dream5 released their debut single I Don't Obey ~Bokura no Pride~ (僕らのプライド) in November 2009.
The unit performed the theme songs for several anime series.
The members have also participated in various CM.
Profile
Dream5 (ドリームファイブ)
Years active : 2009 – present
Label : Avex Trax
Agency : Avex Entertainment
Members
Shigemoto Kotori (重本ことり) (vocals)
Hibi Mikoto (日比美思) (vocals)
Ohara Yuuno (大原優乃) (dance)
Takano Akira (高野洸) (dance)
Tamakawa Momona (玉川桃奈) (danse)
Discography
Singles
04/11/2009 : I Don't Obey ~Bokura no Pride~ (僕らのプライド)
04/08/2010 : Bokura no Natsu!! (僕らのナツ!!)
01/01/2011 : Koi no Dial 6700 (恋のダイヤル6700)
20/07/2011 : Like & Peace!
04/01/2012 : Kirakira Every day (キラキラ Every day)
02/05/2012 : I★My★Me★Mine / EZ Do Dance
15/08/2012 : Ready Go!! / Wake Me Up!
31/10/2012 : Shekimeki! (シェキメキ!)
23/01/2013 : Come On! / Do Re Mi Fa Sora Iro (Come On! / ドレミファソライロ)
15/05/2013 : Hop! Step! Dance ↑↑ (Hop! Step! ダンス↑↑)
14/08/2013 : We Are Dreamer
23/04/2014 : Break Out / Youkai Taisou Daiichi (Break Out / ようかい体操第一)
Albums
20/11/2013 : Magokoro to You (まごころ to You)
Mini-Albums
10/03/2010 : Run to the Future
04/05/2011 : Days
Links
News