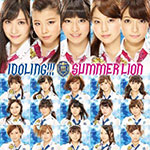 Idoling!!! will release their 20th single Summer Lion (サマーライオン) on August 7.
4 editions are available. The coupling songs are different for each one of them. They all come with a trading card and a ticket for an event.
Sakura Gakuin's Taguchi Hana performed in the song Milky Girl (ミルキーガール) as part of a special collaboration project between Idoling!!! and Sakura Gakuin.
The limited editions include either a DVD or a Blu-ray featuring a music video and bonus footage.
Moreover, Endo Mai, the leader of Idoling!!!, will release her solo debut single on July 31.
Regular Edition
CD

Summer Lion (サマーライオン)
Natsuiro Kiss (夏色キッス☆)
Summer Lion (サマーライオン) (Instrumental)
Natsuiro Kiss (夏色キッス☆) (Instrumental)
Limited Edition Type A
CD

Summer Lion (サマーライオン)
Natsuiro Kiss (夏色キッス☆)
Ohisama Darling (おひさまダーリン)
Natsuiro Kiss (夏色キッス☆) (Instrumental) (Producter's Edit)
DVD

Summer Lion (サマーライオン) (Music Video)
Bonus Footage
Limited Edition Type B
CD

Summer Lion (サマーライオン)
Natsuiro Kiss (夏色キッス☆)
3 Nenme no Uwaki (3年目の浮気)
Summer Lion (サマーライオン) (Producter's Edit)
Blu-ray

Summer Lion (サマーライオン) (Music Video)
Bonus Footage
Limited Edition Type C
CD

Summer Lion (サマーライオン)
Natsuiro Kiss (夏色キッス☆)
Milky Girl (ミルキーガール)