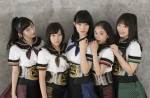 Junes Princess (ジュネス☆プリンセス) is a Japanese idol group formed in 2013. They are also known as JunePri (ジュネ☆プリ).
It currently consists of 5 members. Each one has been assigned a color.
The leader is Igarashi Ayaka.
Biography / History
The concept is that they are ongoing growth idols.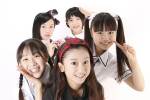 Himekawa Fuuko, Igarashi Ayaka, Sekiya Jueru and Sugimoto Yu were part of the 16-member idol unit Senko Hanabi (閃光花火) from May to July 2013.
Nakajima Haruhi is a former member of Dream Princess (ドリームプリンセス).
The 5 girls were selected to form Junes Princess in November 2013.
They made their stage debut during a Uta Musume (ウタ娘) special live on the same month.
Igarashi Ayaka and Nakajima Haruhi are also an actresses. They appeared in several dramas, commercials and TV shows.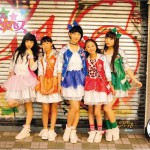 Junes Princess released their 1st single Kimi ni Se.no.bi (キミに SE・NO・BI) in January 2014.
Takahashi Natsuki, Suzuki Himeko, Tomita Urara and Matsumoto Miki were recruited as 2nd Generation members in March 2014. They are now part of the sister group Neo Cardo Ragazze (neoカルドラガッツェ).
Junes Princess held their 1st one-man live in December 2014 at Shibuya Chelsea Hotel, Tokyo.
Nakajima Haruhi was a finalist of Miss iD 2015 (ミスiD2015).
Profile
Junes Princess (ジュネス☆プリンセス)
Years active : 2013 – present
Label : –
Agency : Junes Production
Members
Igarashi Ayaka (五十嵐彩伽) – Orange
Sugimoto You (杉本優羽) – Green
Sekiya Jueru (関谷樹愛瑠) – Red
Nakajima Haruhi (中嶋春陽) – Blue
Himekawa Fuko (姫川風子) – Pink
neoカルドラガッツェ
Takahashi Natsuki (高橋那月)
Suzuki Himeko (鈴木媛子)
Tomita Urara (冨田麗)
Matsumoto Miki (松本美貴)
Discography
Singles
13/01/2014 : Kimi ni Se.no.bi (キミに SE・NO・BI)
23/02/2014 : Hot Tick Tick Wedding (は~と Tick☆Tick ウェディング)
13/10/2014 : Life Is the Game / Shiny Stone
15/07/2015 : DSK Jokyoku (DSK序曲)
Albums
Links
News