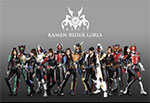 Kamen Rider Girls (仮面ライダーGirls) is a Japanese idol group formed in 2010. It currently consists of 7 members.
The group was created to commemorate the 40th anniversary of the Kamen Rider series. Each member represents one of the characters of the famous sentai drama.
Kamen Rider Girls participated in Anime Idol Asia 2014 in Bangkok, Thailand, in October 2014 along with Yumemiru Adolescence and Dempagumi.inc.
Profile
Kamen Rider Girls (仮面ライダーGirls)
Years active : 2010 – present
Label : Avex Trax
Agency : Avex Entertainment
Members
Isaka Hitomi (井坂仁美)
Nagura Kaori (名倉かおり)
Endo Mitsuki (遠藤三貴)
Yasuda Nao (安田奈央)
Yoshizumi Erika (吉住絵里加)
Akita Chisato (秋田知里)
Sumi Tomomi Jiena (鷲見友美ジェナ)
Former Member
Discography
Singles
20/04/2011 : Let's Go RiderKick 2011
03/08/2011 : Kamen Rider V3
14/03/2012 : Saite (咲いて)
21/11/2012 : Last Engage
27/02/2013 : Just the Beginning
22/05/2013 : Go Get 'em
24/07/2013 : SSS ~Shock Shocker Shockest~ (as Shocker Girls)
25/12/2013 : E-X-A (Exciting × Attitude)
Albums
Links
News