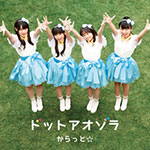 Karat☆'s new single Dot Aozora (ドットアオゾラ) will be released on April 23.
As the members of the idol group are now in their early teens, Dot Aozora is their first love song. It is a pop tune.
This 4th single is a new step in the evolution of Karat☆.
The MV has been released.
Only one edition is available.
The CD includes 2 songs and their instrumental versions.
Tracklist
Dot Aozora (ドットアオゾラ)
Nijiiro Shuffle (虹色シャッフル)
Dot Aozora (ドットアオゾラ) (Instrumental)
Nijiiro Shuffle (虹色シャッフル) (Instrumental)
Music Video (PV)