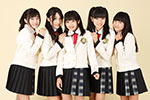 Karat☆ (からっと☆) is a Japanese idol group formed in February 2012.
It currently consists of 5 members.
Biography / History
In February 2012, the 3 original members of Karat☆ were Ariel, Arisa and Miia.
The idol unit was appointed as ambassador for the Japan Karaage Association (日本唐揚協会) which is dedicated to fried chicken.
Karat☆ released their debut single Minna no Karaage (みんなのからあげ) in July 2012.
It was the ending theme song for the children's variety show Piramekino (ピラメキーノ) broadcast on TV Tokyo (テレビ東京).
Ariel announced her graduation in December 2013 in order to focus on her studies.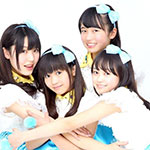 2 new members, Yui and Sakura, joined the idol group on the same month to replace her.
Karat☆ held their 1st one-man live Innocent Sky!! in July 2014 at Tsutaya O-Nest in Tokyo.
Hiwatashi Yui graduated in August 2014.
Maki and Shiori joined the idol group as new members in October 2014.
Karat☆ announced their disbandment and the end of their activities in June 2015.
Profile
Karat☆ (からっと☆)
Years active : 2012 – 2015
Label : –
Agency : –
Members
Nakahara Arisa (中原ありす)
Tatsuki Miia (田附未衣愛)
Sakura (さくら)
Maki (まき)
Shiori (しおり)
Former Members
Ariel (アリエル)
Hiwatashi Yui (樋渡結依)
Discography
Singles
18/07/2012 : Minna no Karaage (みんなのからあげ)
18/04/2013 : Very Berry! Ice Cream! (ベリーベリー!アイスクリーム!)
21/08/2013 : Hikari / Kara Koro Shuppon (光 / から☆コロ☆しゅっぽん)
23/04/2014 : Dot Aozora (ドットアオゾラ)
21/01/2015 : Ima wo Ikiru (今を生きる)
Albums
Links
News