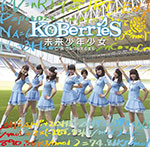 KOBerrieS' new single Mirai Shounen Shoujo (未来少年少女) was released on February 19.
This is the first nationwide single from KOBerrieS.
The PV and live footage of the coupling songs have been released.
3 editions are available. They include 2 songs and their off vocal versions. The coupling track is different for each one of them.
Tracklist
Type R

CD

Mirai Shounen Shoujo (未来少年少女)
Port Tower (ポートタワー)
Mirai Shounen Shoujo (未来少年少女) (Instrumental)
Port Tower (ポートタワー) (Instrumental)
Type G

CD

Mirai Shounen Shoujo (未来少年少女)
Meriken Park ni Ochiru Hoshi (メリケンパークに落ちる星)
Mirai Shounen Shoujo (未来少年少女) (Instrumental)
Meriken Park ni Ochiru Hoshi (メリケンパークに落ちる星) (Instrumental)
Type B

CD

Mirai Shounen Shoujo (未来少年少女)
Umi no Mieru Machi (うみのみえるまち)
Mirai Shounen Shoujo (未来少年少女) (Instrumental)
Umi no Mieru Machi (うみのみえるまち) (Instrumental)
Music Video (PV) & Live