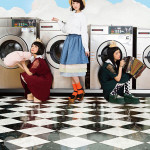 Matsui Rena and Charan Po Rantan will release the single Shabon (シャボン) on April 6th.
This is the 1st solo project of Matsui Rena since her graduation from SKE48 in August 2015.
Matsui Rena makes regular appearances on the radio show Music and Comic Plus (ミュ~コミ+プラス) broadcast on All Night Nippon. She became friend with Charan Po Rantant when they participated in the show as guests.
Shabon will be the tie-up song for Matsui Rena's upcoming drama Hatsukoi Geinin (初恋芸人) which will start airing on NHK BS Premium in March.
Charan Po Rantan (チャラン・ポ・ランタン) is a J-Pop group consisting of sisters Momo (vocals) and Koharu (accordion).
Tracklist
Music Video (PV)