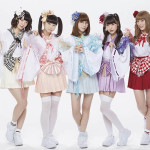 Musubizm will release their 1st single Mae wo Muke (マエヲムケ!) on July 5th.
This long-awaited single marks the CD debut of the idol group.
Musubizm have just signed under Fujiyama Project Japan label.
Mae wo Muke is described as a cheerful song. The music was composed by miifuu who has already worked for several idols. Sawada Challenge, vocalist of the rock band The Challenge, was in charge of the lyrics.
The coupling song our world e was written by Kobayashi Ai and composed by Hashida Kazuma.
Tracklist
CD

Mae wo Muke! (マエヲムケ!)
our world e (our worldへ)
?? (タイトル未定)
Mae wo Muke! (Instrumental)