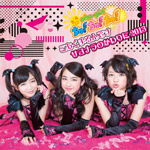 Oha Girl Chu! Chu! Chu! will be releasing their 3rd single Koakumarundesu / Sayonara no Kawari ni 2013 (こあくまるんです / サヨナラのかわりに2013) on February 19.
This is a double A-side single.
The tracklist is the same for regular editions Type A, B, and C, only the CD cover is different.
The limited editions include a bonus DVD featuring music video and other special footage.
Regular Edition Type A, B, C
CD

Koakumarundesu (こあくまるんです)
Sayonara no Kawari ni 2013 (サヨナラのかわりに2013)
Koakumarundesu (こあくまるんです) (Instrumental)
Sayonara no Kawari ni 2013 (サヨナラのかわりに2013) (Instrumental)
Limited Edition Type D, E, F
CD

Sayonara no Kawari ni 2013 (サヨナラのかわりに2013)
Koakumarundesu (こあくまるんです)
Sayonara no Kawari ni 2013 (サヨナラのかわりに2013) (Instrumental)
Koakumarundesu (こあくまるんです) (Instrumental)
DVD (Type D)

Koakumarundesu (こあくまるんです) (Music Video)
Chu! tto Kotaemachu! 3 (

ちゅ!っと答えまちゅ!3

)
DVD (Type E)

Koakumarundesu (こあくまるんです) (Music Video)
Christmas Live 2012 (

クリスマスライヴ2012

)
DVD (Type F)

Koakumarundesu (こあくまるんです) (Music Video)
Jacket & Music Video Making-of (ジャケット・MVメイキング)
Oha Girl Chu! Chu! Chu! – Koakumarundesu (PV Short Ver.)