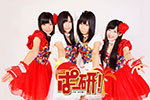 Pa-Ken! (ぱー研!) is a Japanese idol group formed in 2012.
Pa-Ken! is part of Alice Project. The unit is a sister group of Alice Juban, Steamgirls, and Oz.
They perform daily at P.A.R.M.S. Theater in Akihabara in Tokyo.
The 6 members Amaki Jun, Kuroki Hinako, Onodera Naho, Ito Miu, Hoshino Manami, and Kubota Misa graduated from Pa-Ken on December 30, 2013. They are now part of Armor Girls.
Profile
Pa-Ken! (ぱー研!)
Years active : 2012 – 2013
Label : –
Agency : Kleeblatt
Members
Amaki Jun (天木じゅん)
Kuroki Hinako (黒木ひなこ)
Onodera Naho (小野寺なほ)
Ito Miu (伊藤みう)
Hoshino Manami (星野愛実)
Kubota Misa (窪田美沙)
Discography
Singles
10/07/2013 :

Haniton no Theme (ハニトンのテーマ)
Albums
Links
News
Video