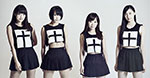 PassCode is a Japanese idol group formed in 2013.
It currently consists of 4 members. Each one has been assigned a color.

Biography / History
PassCode perform rock, pop and EDM (electro dance music) songs.
The idol unit is based in Osaka. It is the hometown of the 4 girls.
Sound producer Hirachi Koji is in charge of songwriting.
PassCode debuted their activities in May 2013.
Kurohara Yuri is the only remaining member from the original line-up.
Minami Nao was recruited in July 2013.
3 former members successively withdrew in July, August and December 2013.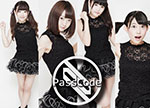 Takashima Kaede and Imada Yuna joined the idol group in January 2014.
PassCode 1st live performance was held in March 2014 at Osaka Ruido.
Their 1st single Nextage was released in September 2014.
The CD was followed by their 1st album All Is Vanity in October 2014.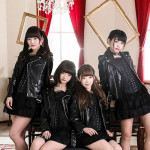 The girls are trying to escape from an apocalyptic world in the music video for Now I Know on sale in May 2015.
Ogami Hinako joined PassCode as a new member in August 2015. She made her first appearance during Tokyo Idol Festival.
Kurohara Yuri announced her withdrawal due to poor physical health in October 2015.
The idol group held its 1st One-Man Live Tour Trial of PassCode from October 2015 to January 2016 across Japan.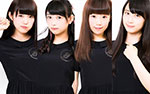 Songs featuring Imada Yuna's shout scream are one of the characteristics of the idol group.
Their fans are called "hackers".
Profile
PassCode
Years active : 2013 – present
Label : –
Agency : We-Bstudio
Members
Takashima Kaede (高嶋楓) – Yellow
Imada Yuna (今田夢菜) – Blue
Minami Nao (南菜生) – Pink
Ogami Hinako (大上陽奈子)
Former Members
Kurohara Yuri (黒原優梨) – Red
Discography
Singles
26/09/2014 : Nextage
27/05/2015 : Now I Know
25/11/2015 : Never Sleep Again
Albums
01/10/2014 : All Is Vanity
Links
News