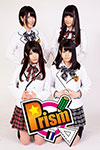 Prism (プリズム) is a Japanese idol group formed in 2012. It currently consists of 4 members.
They perform high school students.
Prism is part of Alice Project. It is a sub-unit of Alice Juban and Steamgirls.
Kawamura Nanaka, Kameda Reona, and Sawada Risa are also members of Steamgirls, whereas Kiratani Mao belongs to Alice Juban.
They perform regularly at P.A.R.M.S. Theater in Akihabara in Tokyo.
Profile
Prism (プリズム)
Years active : 2012 – present
Label : –
Agency : Kleeblatt
Members
Kiratani Mao (桐谷真央)
Kawamura Nanaka (川村虹花)
Kameda Reona (亀田伶央奈)
Sawada Risa (澤田リサ)
Discography
Singles
Albums
Links
News