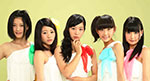 SakuLove (さくらぶ) is a Japanese idol group formed in April 2011. It currently consist of 5 members.
The idol unit is based in Tsuyama in Okayama prefecture.
It was created to promote tourism in this area. They are part of the Mimasaka Tourism Federation.
The name of the group, SakuLove, was chosen from online vote.
The staff announced that SakuLove stopped their activities in late March 2014.
Profile
SakuLove (さくらぶ)
Years active : 2011 – 2014
Label : Sound Sketch:Inc
Agency : –
Members
Wakanan (わかなん)
Miina (みぃな)
Reikorun (れいこるん)
Aanan (あーなん)
Miotan (みおたん)
Former members
Mao Mao (まおまお)
Riinya (りーにゃ)
Momochin (ももちん)
Miyuyu (みゆゆ)
Discography
Singles
25/10/2011 : Gyutto (gyuっと。)
17/03/2012 : Honnara ne / Love Phone (ほんならね/Love Phone)
28/07/2012 : Jump!!!
08/12/2012 : Koisuru Ringo (恋するリンゴ)
Albums
Links
News