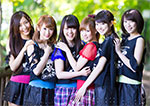 Shizukaze & Kizuna (しず風&絆) is a Japanese idol group formed in March 2012.
It currently consists of 6 members.
Biography / History
As its name suggests, it is the combination of the idol units Shizukaze (しず風) and Kizuna (絆) which were respectively created in 2009 and 2010.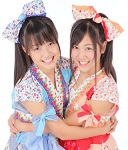 The girls are from Nagoya in Aichi Prefecture.
Shizukaze & Kizuna signed under T-Palette Records label in 2011.
The idol group holds regular live performances in Tokyo and Nagoya.
Tachibana Fuka and Tachibana Misora are sisters.
In January 2015, the girls participated in a marketing campaign for Lawson. They were appointed as employees for the convenience store chain (konbini).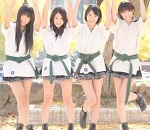 Mizuno Haruko graduated from the idol group in May 2015 due to poor physical health. She retired from the entertainment industry.
As a result, the 5 other members of Shizukaze & Kizuna announced their graduation in summer 2015.
Related articles :
Profile
Shizukaze & Kizuna (しず風&絆~Kizuna~)
Years active : 2012 – 2015
Label : T-Palette Records
Agency : Versus Production
Members
Shizukaze
Mano Shizuku (真野しずく)
Tachibana Fuka (立花風香)
Kizuna
Shiratori Miu (白鳥美海)
Tachibana Misora (立花美空)
Mizuno Haruko (水野晴子)
Sakurayama Mio (桜山澪)
Discography
Singles
09/11/2011 : Pink no Rocket ☆彡 (Pinkのロケット☆彡) (Shizukaze)
21/03/2012 : Oo. Shizukaze ni Notte .oO (Oo.しず風にのって.oO)
24/10/2012 : Checker Flag wo Tomero (チェッカーフラッグをとめろ)
27/03/2013 : Tsukushinbou (つくしんぼう / つくしん暴)
19/08/2014 : Wonder Parade
Albums
Links
News