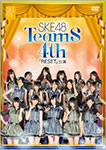 SKE48 Team S 4th Stage "Reset" will be released on DVD on March 7.
The live performance was recorded on November 19, 2013 at SKE48 Theater in Nagoya.
SKE48 Team S 4th Stage "Reset" started on July 23, 2013. The setlist has 17 songs.
The unit is lead by Nakanishi Yuka and includes Matsui Jurina.
Setlist
overture (SKE48 ver.)
Reset
Sentaku Monotachi (洗濯物たち)
Kanojo ni Naremasu ka? (彼女になれますか?)
Uhho Uhhoho (ウッホウッホホ)
Seifuku Resistance (制服レジスタンス)
Kiseki wa ma ni Awanai (奇跡は間に合わない)
Gyakuten Oujisama (逆転王子様)
Ashita no Tame ni Kiss wo (明日のためにキスを)
Kokoro no Hashi no Sofa (心の端のソフャー)
Dokugumo (毒蜘蛛)
Okera (オケラ)
White Day ni wa… (ホワイトデーには···)
Jigsaw Puzzle 48 (ジグソーパズル48)
Hoshizora no Mistake (星空のミステイク)
Yume no Kane (夢の鐘)
Hikkoushimashita (引っ越しました)
The DVD can be pre-ordered on SKE48 DVD Catalog website.