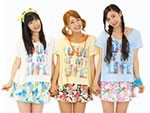 Sketch (スケッチ) is a Japanese idol group formed in September 2008 by Kid Company. It currently consists of 3 members. Each one of them has been assigned a color.
It is a dance and vocal unit is based in Osaka in Kansai area.
On June 1, 2013, Motogi Noriko announced her graduation from Sketch due to health problems.
Profile
Sketch (スケッチ)
Years active : 2008 – present
Label : –
Agency : Kid Company
Members
Hashimoto Rina (橋本梨菜) (Yellow)
Watanabe Natsuki (渡辺菜月) (Blue)
Sawa Minori (佐波美乃吏) (Green)
Former Members
Motogi Noriko (元木のりこ) (Pink)
Discography
Singles
11/08/2010 : Blue Sky
23/02/2011 : All My Ladies
02/05/2012 : Trump Trap / Green & Peace
21/08/2013 : Ame Nochi Hare (雨のち晴れ)
Albums
Links
News