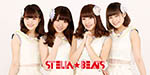 Stella☆Beats is a Japanese idol group formed in 2014.
It currently consists of 4 members.
The leader is Hoshino Mana.
Biography / History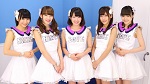 Stella☆Beats is a sister group of Lovely Doll (愛乙女★Doll), Doll☆Elements, Ange☆Reve and Luce Twinkle Wink☆.
Sakuragi Kotoka, Sasaki Arisa, Hoshino Mana and Nanase Nozomi were part of the 4th Generation Kenkyuusei (研究生). They belonged to Love Ken (らぶけん!) along with Luce Twinkle Wink☆.
Aya joined them later. She was still active as a member of Love La Doll at the same time.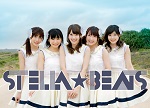 Stella☆Beats' 1st single Kono Koi wa Tomaranai (この恋はとまらない) was released in December 2014. The CD reached the 1st rank on Oricon daily chart. It was the ending theme song for the show airing musicるTV airing on TV Asahi.
Their 2nd single Fantastic Traveller is on sale since May 2015.
Stella☆Beats 1st live performance was held in June 2015 at Shibuya Eggman, Tokyo.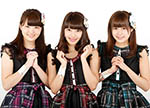 Aya announced her graduation in July 2015. She joined Kamen Rider Girls (仮面ライダーガールズ) in November 2015 under the name of Kuroda Ayako (黒田絢子).
Aino Ami replaced her in July  2015. She was part of Jelno.
Sakuragi Kotoka and Aino Ami graduated in September 2015.
Yonemitsu Riko joined the idol group in October 2015. She is a former member of Tokyo Toritsu and iDOL Street.
Stella☆Beats' 3rd single Hoshizora Symphony (星空シンフォニー) was released in January 2016.
Maeda Misaki became a new member in January 2016.
Their fan club is named Beat★Box.
Profile
Stella☆Beats (ステラ ビーツ)
Years active : 2014 – present
Label : Arc Jewel
Agency : Arc Jewel
Members
Hoshino Mana (星野愛菜)
Nanase Nozomi (七瀬望美)
Yonemitsu Riko (米満梨湖)
Maeda Misaki (前田美咲)
Former Members
Aya (アヤ)
Sasaki Arisa (笹木ありさ)
Sakuragi Kotoka (桜木琴歌)
Aino Ami (愛野アミ)
Discography
Singles
09/12/2014 : Kono Koi wa Tomaranai (この恋はとまらない)
12/05/2015 : Fantastic Traveller*
19/01/2016 : Hoshizora Symphony (星空シンフォニー)
Albums
Links
News