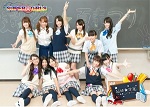 Super☆Girls' original movie Chouzetsu☆Gakuen ~Mirai e no Step~ (超絶☆学園~未来へのStep~) will be released on DVD on December 12.
The DVDs include 11 short drama episodes (one for each Super☆Girls member) and interviews.
A bonus disc features making-of and video footage of the event Chouzetsu☆Natsu Matsuri held at Odaiba Cinema Mediage on August 18-19.
It includes a photo of a member randomly selected.
Tracklisting
Disc 1 : Drama Chouzetsu☆Gakuen

Yasaka Saori – Saoriinu no Tokimeki Musical (さおりーぬのときめきミュージカル)
Shimura Rika – Rikataso to Neko to Horror (りかたそと猫とホラー)
Kanō Kaede – Kaepyon no Dokidoki Koukan Nikki (かえぴょんのドキドキ交換日記)
Watanabe Hikaru – Pikarun no Pikkapika Birthday!? (ぴかるんのぴっかぴかバースデー!?)
Miyazaki Rina – Miyari no Dotababa kara Sawagi (みやりのドタバタから騒ぎ)
Katsuta Rino – Pino no Zekkyou Horror Dai Sakusen (ピノの絶叫ホラー大作戦)
Arai Reira – Rachel no Tokumei Mission (れいちぇるの特命ミッション)
Tanaka Mirei – Birei no Tamashii no Shutter (美麗の魂のシャッター)
Mizote Ruka – Ruka no Cinderella to Jigen Bakudan (るかのシンデレラと時限爆弾)
Gotō Aya – Gocchan no Wakuwaku Cooking (ごっちゃんのわくわくクッキング)
Maeshima Ami – Amita no Kowai no Tonde Ike ~ (あみたの怖いの飛んで行け~)
Disc 2 : Member Interview

Yasaka Saori (八坂沙織)
Shimura Rika (志村理佳)
Kanō Kaede (稼農楓)
Watanabe Hikaru (渡邉ひかる)
Miyazaki Rina (宮崎理奈)
Katsuta Rino (勝田梨乃)
Arai Reira (荒井玲良)
Tanaka Mirei (田中美麗)
Mizote Ruka (溝手るか)
Gotō Aya (後藤彩)
Maeshima Ami (前島亜美)
Disc 3

Document of Chouzetsu☆Natsu Matsuri ~Kanojotachi ga Zenryoku de Kake Agatta 2012-nen, Natsu~ (超絶☆夏まつり~彼女たちが全力で駆け上がった2012年、夏~)
Super Girls – Chouzetsu Gakuen ~Mirai e no Step~ (Trailer)