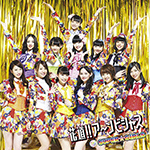 Super☆Girls' 10th single Hanamichi!! Ambitious (花道!!ア~ンビシャス) will be released on May 14.
The 3 new members of Super☆Girls (Watanabe Koume, Asakawa Nana, Uchimura Risa) are making their first appearance on this single. It marks the beginning of the 2nd chapter of the history of the idol group.
The MV has been released.
It is the tie-up song for the television show musicるTV airing on TV Asahi, and for the radio show Power Play (パワープレイ) broadcast on FM Nack5.
The Type A edition includes a bonus Blu-ray with the music video and making-of footage.
Furthermore, the live tour Super☆Girls Daini Shou ~Hajimemashite, Shinsei Supaga Desu!! ~ Campaign (Super☆Girls 第二章開幕 ~はじめまして、新生スパガです!!~ キャンペーン) will be held from May 5 to June 8 in 9 cities across Japan.
Tracklist
Type A

CD

Hanamichi!! Ambitious (花道!!ア~ンビシャス)
Hatsukoi Labyrinth (初恋☆ラビリンス)

DVD

Hanamichi!! Ambitious (花道!!ア~ンビシャス) (Music Video)
Hanamichi!! Ambitious (花道!!ア~ンビシャス) (Making-of)
Type B

CD

Hanamichi!! Ambitious (花道!!ア~ンビシャス)
Hatsukoi Labyrinth (初恋☆ラビリンス)
Hanamichi!! Ambitious (花道!!ア~ンビシャス) (Instrumental)
Hatsukoi Labyrinth (初恋☆ラビリンス) (Instrumental)
Music Video (PV)