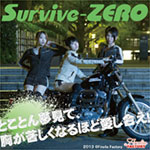 Survive-Zero's new single Tokoton Yumemite, Mune ga Kurushiku Naru Aishiae (とことん夢見て、胸が苦しくなるほど愛し合え!) will be released on October 27.
This is the 16th single from Survive-Zero.
Only one edition is available.
The CD will be on sale at the live event Finolia Factory Holiday Special Vol.65 which will be held on October 27 at Shibuya Cyclone in Tokyo.