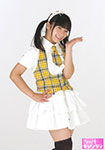 Aya is going to graduate from Kimitomo Candy.
Her graduation ceremony will be held during the live Aya Sotsugyoushiki – Korekara Kaigai de Ganbarimasu! (あや卒業式・これからは海外で頑張ります!) on March 16.
Aya has to leave the group because she's going to live abroad.
Kimitomo Candy's 3rd single Secret Emotion will be released on March 6.