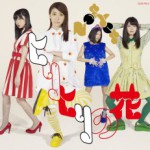 Not Yet will release their new single Hiri Hiri no Hana (ヒリヒリの花) on September 25.
Not Yet is an idol group consisting of Oshima Yuko, Kitahara Rie, and Yokoyama Yui from AKB48, and Sashihara Rino from HKT48.
4 editions are available. Each one of them has a coupling song with a different member as the center.
It includes a DVD with the music video and bonus footage, with the exception of the Type D edition.