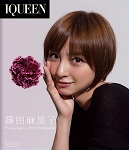 Shinoda Mariko's (AKB48) blu-ray iQueen Vol.10 "Secret" (iQueen Vol.10 篠田麻里子 "Secret") will be released on October 24.
The blu-ray contains photos from Shinoda Mariko's photobook iQueen released on July. The theme is "secret". This photobook shows off her charm and her maturity.
It comes with 3 postcards.
The blu-ray includes 3D pictures requiring compatible device in order to watch them, otherwise they are shown in 2D.