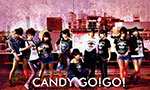 Candy Go! Go!'s new single Kami-sama no Ijiwaru (神様のイジ悪) will be released on October 22nd.
This is the first single from Candy Go! Go! with their new line-up. It is subtitled "Why are the Gods so cruel".
The video recorded at a live performance of the idol group at Ebisu Liquid Room and the trailer have been unveiled.