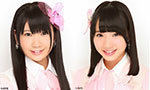 Niidoi Sayaka and Kitahara Yuna announced their graduation from SKE48.
Both girls decided to leave the idol group in order to focus on their studies.
Niidoi Sayaka is a member of Team S. She will graduate after a final live performance at SKE48 Theater on November 30.
Kitahara Yuna was part of Kenkyuusei. She stopped her activities on November 22.