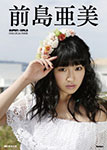 The 2nd photobook of Maeshima Ami entitled Maeshima Ami (前島亜美) has been released on March 8.
Maeshima Ami is a member of Super☆Girls and a model for Pichi Lemon (ピチレモン) magazine. She has just graduated from junior high school.
This book shows a more mature side than her 1st photobook Amita (あみた) released last year.
Check out the special making movie.