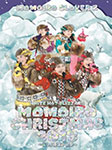 Momoiro Clover Z concert Momoiro Christmas 2013 ~Utsukushiki Gokkan no Sekai~ (ももいろクリスマス2013 ~美しき極寒の世界~) will be released on DVD and Blu-ray on June 25.
Momoiro Christmas 2013 was held on December 23, 2013 at Seibu Dome in Saitama. Momoiro Clover Z performed 26 songs during this live performance.
The trailer has been released.