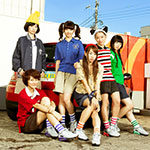 Lyrical School's new single Waratte.net / My Kawaii Nichijoutachi (わらって.net / Myかわいい日常たち) will be released on December 11.
This is a double A-side single. 2 versions are available.
The limited edition includes 2 bonus tracks recorded during at the live Date Course Special Tour Final held at Shibuya Museum Sound Vision on November 3.
The music video has been released.