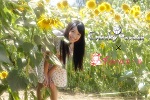 Nizorogi Seran (Cheeky Parade) participated in a project in collaboration with Hana Girl (Hanaガール).
This project aims to enhance the beauty of girls and flowers.
Some photos and a video have been published online.
Tanaka Mirei (Super☆Girls) and Sakamoto Hazuki (iDOL Street w-Street Osaka) appeared in Hana Girl earlier in the year.