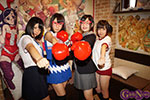 Steamgirls and Alice Project participated in a special event to promote the video game Oshioki Punch Girl!!! (おしおき☆パンチガール!!!).
Koyanagi Tomoe from Steamgirls cosplayed as the main character Akiyama Momiji.
Alongside with other members of Alice Project (Tsukimura Reika, Yamada Raiko, Aiuchi Nako, Someya Aika, Ume Koume, Kojima Yuuka), she participated in an event held at Oshioki Cafe (おしおき★カフェ) in Akihabara from November 29 to December 1.