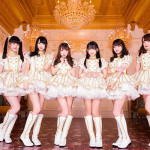 Ready to Kiss are going to start a new chapter of their history.
Harukawa Momona and Ichinose Anju announced their graduation.
As a result, 3 new members will join the idol group in April : Sakai Koto (ex SIR Sanspo Idol Reporter), Kiyokawa Reina (ex Say-La) and Ookawa Sayana (ex Sweet Pastel).