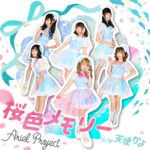 Ariel Project's new single Sakurairo Memory (桜色メモリー) will be released on March 3rd.
This is the first CD of Ariel Project, an idol group from Hong Kong, to be released in Japan. It features 2 songs, Sakurairo Memory and Tenshi no ka, which are popular among fans at their live performances.
Sound producer Kubo Naoki, who has collaborated with artists such as Silent Siren, worked on this single.