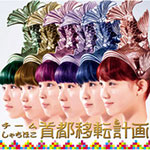 Team Syachihoko's new single Shuto Iten Keikaku (首都移転計画) will be released on June 19.
This will be Team Syachihoko's major debut single. It contains 3 songs and their instrumental versions.
A limited edition including a different coupling track will only be sold in Nagoya, where the unit is based, and at their live performances.