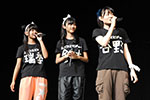 Mizuki, Anno Natsu, and Suzuki Hirono announced their graduation from Shiritsu Ebisu Chuugaku (Ebichu).
The 3 members will leave Shiritsu Ebisu Chuugaku next Spring after the concert of the idol group scheduled on April 15, 2014 at Nippon Budokan in Tokyo.
The announcement was made on December 26 during the event Ebichu TV broadcast on Ustream.