Techpri (テクプリ), also known as T.C. Princess, is a Japanese idol group formed in 2009.
It consists of 4 members.
The leader is Rika and the sub-leader is Rio.
The idol unit is based in Sendai in Miyagi Prefecture.
Their English name is T.C. Princess. "T" corresponds to the words "Tohoku" and "Techno". "C" is used for the words "Cute", "Challenge", "Chance".
Techpri perform techno pop songs.
The idol group is produced by Tobeta Bajune (トベタ・バジュン).
The girls are also models.
T.C. Princess held their 1st live performance in July 2009.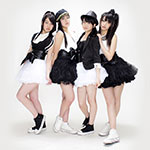 Their 1st mini-album First★Date (ファースト★デート) was released in March 2010 on iTunes.
Their 1st single went on sale in July 2010.
Techpri disbanded in late July 2013.
Various artists such as YMCK, Sexy Synthetizer, Aprils, Slake, Curumi Chronicle… performed on the album Techpri Tribute ~Techpri Happy Ever After~ (テクプリ・トリビュート~テクプリHappy Ever After~) released in May 2014.
Profile
Techpri (テクプリ), t.c. princess
Years active : 2009 – 2013
Label : Teepot
Agency : Morado Company
Members
Rika (リカ, 八島莉香)
Rio (リオ, 菅原梨央)
Yukino (ユキノ, 佐藤友紀乃)
Momoka (モモカ, 米倉桃華)
Discography
Singles
18/07/2010 : First Date
01/08/2011 : Suki Suki Suki (スキスキスキ)
04/08/2012 : Do It!!
Mini-Album
01/03/2010 : First★Date (ファースト★デート)
Best-of Album
21/03/2012 : Early Best : Sentimental Diamond
Other Albums
21/05/2014 : Techpri Tribute ~Techpri Happy Ever After~ (テクプリ・トリビュート~テクプリHappy Ever After~)
Links
News