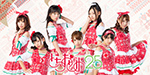 Tochiotome25 (とちおとめ25) is a Japanese idol group formed in 2010.
It currently consists of 6 members.
The leader is Ai.
Biography / History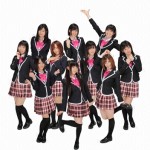 Tochiotome25 was formed in 2010 to promote Tochigi Prefecture at the Shanghai Expo world's fair in China. The held live performances at Japan Industry Pavilion.
The name of the group is a contraction of the words "Tochigi" and "Otome" which means "girl" in Japanese. It is also the name of a local strawberry.
The members promote the agricultural products of the area.
The idol group was finalist at the U.M.U Award 2011.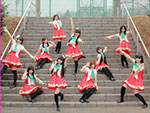 Their 1st single Tochiotome25 no Theme (とちおとめ25のテーマ) was released in August 2012.
Their 1st album Love Tochigi (Love♡とちぎ) went on sale in March 2014.
Tochiotome 25 participated in Japan Festival in Vietnam 2014 in Ho Chi Minh City in November 2014.
The girls appeared in a commercial campaign in Tokyo in February 2015.
Their goal is to be both a local and a national idol group.
Profile
Tochiotome25 (とちおとめ25)
Years active : 2010 – present
Label : Bellwood Records
Agency : –
Members
Ai (あい)
Karin (かりん)
Eri (えり)
Mao (まお)
Hitomi (ひとみ)
Yurika (ゆりか)
Former Members
Sayuri (さゆり)
Yabecchi (やべっち)
Fuuko (ふうこ)
Mei (メイ)
Madoka (まどか)
Kurumi (くるみ)
Yayoi (やよい)
Discography
Singles
25/08/2012 : Tochiotome25 no Theme (とちおとめ25のテーマ)
13/02/2013 : Ichigo Hakase (いちごハカセ)
28/08/2013 : Gyo-Za Party
22/10/2014 : Wagyuu Fire! (和牛ファイヤー!)
22/04/2015 : Yu (ゆ)
Albums
19/03/2014 : Love Tochihi (Love♡とちぎ)
Links
News