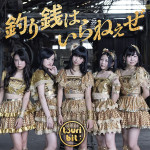 The upcoming single of Tsuri Bit entitled Tsurisen wa Iraneze (釣り銭はいらねぇぜ) will be released on August 5.
It's the 6th single of the idol group.
Check out the music videos.
The tracklists and the covers have unveiled.
On the single covers, the members of Tsuri Bit wear golden costumes.
In the video clip, the girls must face the Thai mafia.
The single will be released in limited edition (CD+DVD) and 2 regular ones Type A and B. The editions will include all different CD. The B-side track is different depending on the edition.
Tracklist
Type A

Tsurisen wa Iraneze (釣り銭はいらねぇぜ)
Hadashi no Mermaid (裸足のマーメイド)
Tsurisen wa Iraneze (Instrumental)
Hadashi no Mermaid (Instrumental)
Regular edition B

Tsurisen wa Iraneze (釣り銭はいらねぇぜ)
Tsuri Patry (釣りパーティー)
Tsurisen wa Iraneze (Instrumental)
Tsuri Party (Instrumental)
Limited Edition CD

Tsurisen wa Iraneze (釣り銭はいらねぇぜ)
Shiokaze Nikki (潮風日記)
Tsurisen wa Iraneze (Instrumental)
Shiokaze Nikki (Instrumental)
Limited Edition DVD

Tsurisen wa Iraneze (Music Video)
Music Video (PV)