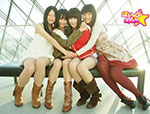 Whip Girls (ほいっぷ★Girls) is a Japanese idol group formed in July 2011. It consists of 4 members.
The unit is based in Sapporo on the island of Hokkaido.
Kamatan, Macchan, Sayaya and Honamin graduated on November 3, 2013. As a result, Whip Girls stopped their activities on the same date.
Nagasaka Mako became a model for Nico Puchi (ニコ☆プチ).
Profile
Whip Girls (ほいっぷ★Girls ; ほいがる)
Years active : 2011 – 2013
Label : –
Agency : –
Members
Kamatan (かまたん), leader
Macchan (ま~ちゃん) – Nagasaka Mako (

永坂真心

)
Sayaya (さゃゃ) – Kikuchi Sayaka (

菊地紗弥佳

)
Honamin (ほなみん) – Minato Honami (

湊帆洋

)
Discography
Singles
Arigatou (ありがとう。)
Shooting Star / Chouzetsu★Cheerful (Shootingstar/超絶★ちあふる)
28/08/2013 : Kirari Seishun / Believe in Yourself (きらり☆青春 / Believe in Yourself)
Albums
Links
News