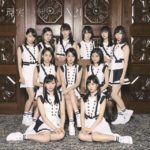 The new single of X21 was released on August 16th.
It is entitled Genjitsu kara Nigeru kara Genjitsu ga Tsurainda (現 実 か </s> 逃 ラ い ん だ) and this is the 10th single of the idol group.
Check out the music below!
The single is available in three main versions and two more in mu-mo shops.
The regular version includes the CD only containing one more song than the limiteds versions CD.
The DVD contains the MV and a bonus video.
Tracklist
Regular Edition CD

Genjitsu kara Nigeru kara Genjitsu ga Tsurainda (現実から逃げるから現実がツラいんだ)
Kimi to Boku no Natsu (君と僕の夏)
Asagao (アサガオ)
Genjitsu kara Nigeru kara Genjitsu ga Tsurainda (Instrumental)
Kimi to Boku no Natsu (Instrumental)
Asagao (Instrumental)
"CD+DVD" et "VR" Editions CD

Genjitsu kara Nigeru kara Genjitsu ga Tsurainda (現実から逃げるから現実がツラいんだ)
Kimi to Boku no Natsu (君と僕の夏)
Genjitsu kara Nigeru kara Genjitsu ga Tsurainda (Instrumental)
Kimi to Boku no Natsu (Instrumental)
"CD+DVD" Edition DVD

Genjitsu kara Nigeru kara Genjitsu ga Tsurainda (Music Video)
Genjitsu kara Nigeru kara Genjitsu ga Tsurainda (Off Shot)
Music Video (PV)