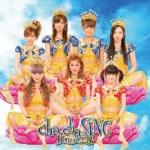 Berryz Kobo's 29th single Cha Cha Sing will be released on July 25.
The first and the second tracks, Cha Cha Sing and Loving You Too Much, are covers originally performed by Thai singer Thongchai "Bird" McIntyre.
The third track Momochi! Yurushite Nyan! ♡ Taisou is a solo song by Momoko Tsugunaga. It is based on her catch phrase "Yurushite Nyan!" ("Forgive Me Meow!").
Regular Edition

CD

Cha Cha Sing
Loving You Too Much
Momochi! Yurushite Nyan! ♡ Taisou (ももち!許してにゃん♡体操) (Tsugunaga Momoko feat. Berryz Kôbô)
Cha Cha Sing (Instrumental)
Loving You Too Much (Instrumental)
Momochi! Yurushite Nyan! ♡ Taisou (ももち!許してにゃん♡体操) (Tsugunaga Momoko feat. Berryz Kôbô) (Instrumental)
Limited Edition Type A

CD

Cha Cha Sing
Loving You Too Much
Momochi! Yurushite Nyan! ♡ Taisou (ももち!許してにゃん♡体操) (Tsugunaga Momoko feat. Berryz Kôbô)
Cha Cha Sing (Instrumental)
Loving You Too Much (Instrumental)
Momochi! Yurushite Nyan! ♡ Taisou (ももち!許してにゃん♡体操) (Tsugunaga Momoko feat. Berryz Kôbô) (Instrumental)
DVD

Cha cha Sing (Dance Shot Ver.)
Limited Edition Type B

CD

Cha Cha Sing
Loving You Too Much
Momochi! Yurushite Nyan! ♡ Taisou (ももち!許してにゃん♡体操) (Tsugunaga Momoko feat. Berryz Kôbô)
Cha cha Sing (Instrumental)
Loving You Too Much (Instrumental)
Momochi! Yurushite Nyan! ♡ Taisou (ももち!許してにゃん♡体操) (Tsugunaga Momoko feat. Berryz Kôbô) (Instrumental)
DVD

Cha Cha Sing (Close-up Ver.)
Limited Edition Type C

CD

Cha Cha Sing
Loving You Too Much
Momochi! Yurushite Nyan! ♡ Taisou (ももち!許してにゃん♡体操) (Tsugunaga Momoko feat. Berryz Kôbô)
Cha Cha Sing (Instrumental)
Loving You Too Much (Instrumental)
Momochi! Yurushite Nyan! ♡ Taisou (ももち!許してにゃん♡体操) (Tsugunaga Momoko feat. Berryz Kôbô) (Instrumental)
Berryz Kōbō – Cha Cha Sing (MV)