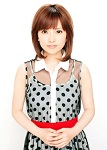 Abe Natsumi Birthday Live 2012 ~Thanks All~ (安倍なつみ Birthday Live 2012 ~thanks all~) will be released on DVD on December 12.
The concert was held by Abe Natsumi (ex Morning Musume) on August 10 at Shibuya-AX to celebrate her 31st birthday.
The DVD also includes a digest of her one-man live Abe Natsumi Sparkling Live 2012 ~Big Up!~ held on June 2 at Shibuya O-East.
Setlist
Surprise Planning
Toumorokoshi to Sora to Kaze (トウモロコシと空と風)
Kuchibiru de Tomete (くちびるで止めて)
Hare Ame Nochi Suki (晴れ 雨 のち スキ) (Morning Musume Sakuragumi cover)
Ameagari no Niji no You ni (雨上がりの虹のように)
Sayonara Sae Ienu Mama (さよならさえ言えぬまま)
Koi (恋)
Tomoshibi (灯-ともしび-) (Oku Hanako cover)
Senkou Hanabi (せんこう花火) (Morning Musume cover)
Manatsu no Kousen (真夏の光線) (Morning Musume cover)
I Wish (Morning Musume cover)
Yuugure Sakusen Kaigi (夕暮れ作戦会議)
Soyokaze (微風)
– Encore –
Furusato (ふるさと) (Morning Musume cover)
Sora Life Goes on (空 Life Goes on)
Itoshiki Hito (愛しき人)