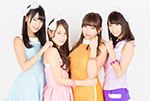 AeLL is a Japanese idol group formed in January 2011 by Shining will.
It consists of 4 members.
The name of the idol unit, AeLL, is an acronym for "Activity Eco Life with Love".
The leader is Nishi Erika.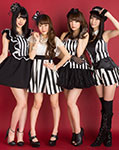 Ai Shinozaki is a famous busty gravure idol. She has released several photobooks and solo DVDs including Koi Nandesu (恋なんです)…
The concept is that the girls promote ecology and fight against environmental issues in order to improve health.
Biography / History
AeLL released their debut single Ecology Monkeys (エコロジーモンキーズ) in April 2011.
The idol group gave its 1st live performance in December 2011 at Shibuya Deseo in Tokyo.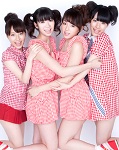 The members host the show AeLL TV (放送局) on Nico Nico Douga (ニコニコ動画) since 2012. It is broadcast weekly on Wednesdays between 21:00 and 22:00 (JST).
Nishi Erika made her solo debut with the single Un Jour in June 2013.
In September 2014, Shinozaki Ai and Shijou Haruna appeared in the movie Alps Jogakuen (アルプス女学園) along with members from other idol groups.
AeLL went on hiatus after a last live performance in September 2014. The members pursue their career with solo activities.
Nishi Erika's 2nd single Prologue was released in January 2015.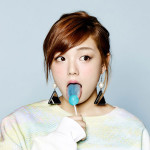 The radio show Shinozaki Ai no "Oshinobi Radio" (篠崎愛の「おしのびラジオ」) started broadcasting in February 2015.
Shinozaki Ai made her solo debut with the single A-G-A-I-N in May 2015.
Profile
AeLL (エール) (Activity Eco Life with Love)
Years active : 2011 – 2014
Label : –
Agency : Shining Will
Members
Nishi Erika (西恵利香)
Shinozaki Ai (篠崎愛)
Shijou Haruna (石條遥梨)
Takana Kumi (鷹那空実)
Discography
Singles
29/04/2011 : Ecology Monkeys (エコロジーモンキーズ)
31/07/2011 : Ganbare! Watashi! (頑張れ!私!)
19/11/2011 : Everyday Makenai! (Everyday 負けない!)
11/02/2012 : Arigatou! Sayonara (ありがとうサヨナラ。)
31/03/2013 : Magic⇔Music
07/08/2013 : Cinderella Summertime (シンデレラ サマータイム)
Other singles
27/10/2013 : Aozora / Kizuna (青空 / 絆)
Albums
05/09/2012 : With AeLL
09/04/2014 : 4/4 Yon Bun no Yon
Links
News